As of yesterday, I have exceeded my total number of documented training hours from 2011. That is correct, in less than 3 months, I have surpassed the previous 10. [
Note: I did not have a cycling computer until the end of October, so the 2010 numbers are based on the rides I recorded with my Android phone
]
I have nearly passed the number of recorded miles from last year as well.
2010 was an interesting year. I did not ride my bike until the day before the Waverly Short Track race, so ~2 rides in January. It was a blustery 15 F outside at the start, and I do recall some wind. All I had to do was complete 4 ~1 mile laps. Couldn't have been too hard, right?
After one lap, I could taste blood, I think my lungs were hemorrhaging. On the second lap, my fingers were getting cold (and I believe this was the first time Dave Weins passed me). On the third lap, I could no longer shift due to my numb fingers, however the pain in my hands was falling second to the freezing of my feet (Dave passed me again, I lost count how many times).
I was just happy to finish the fourth lap. By the time I did, Dave had finished the race, packed up his stuff, sipped a cappuccino, signed autographs for all the screaming fans, and departed. I later found out he had time to drive back to the hotel, shower, change, and take a nap before I finished.
I on the other hand, upon finishing, collapsed behind the nearest tree and vomited. I want to blame it on the cold temps, but looking back I think it was just my body expelling weakness. I would like to thank my terrific wife for not photographing that part, but perhaps these shots my accurately portray what I was feeling...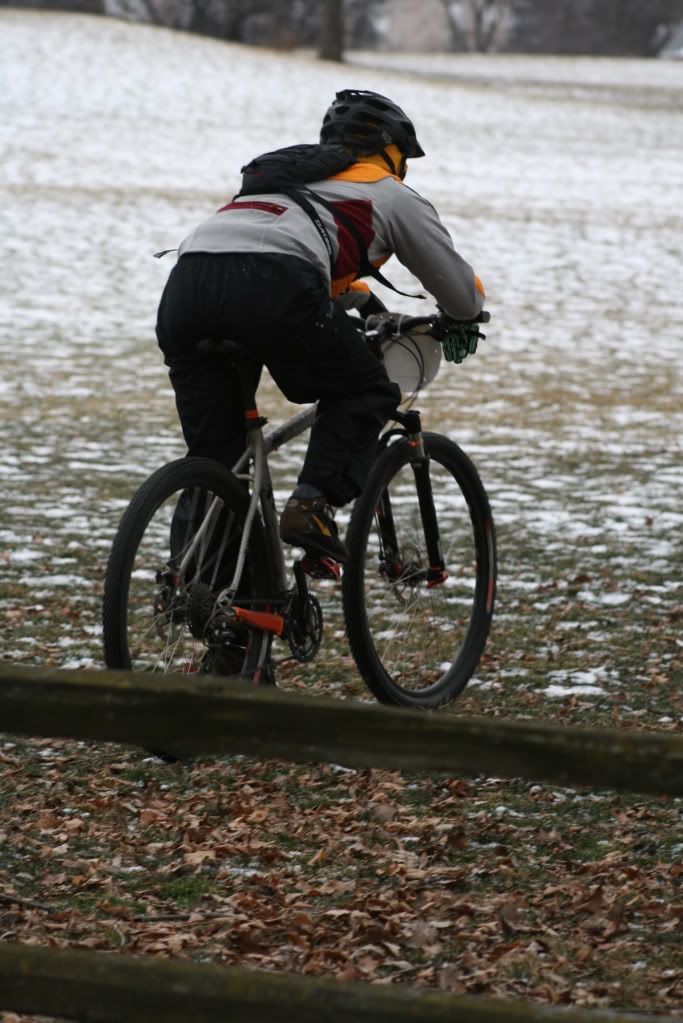 On my way to the tree!
So, as January winds down, I can look back and reflect on the changes that have occurred in the last year. I may not get a race in this month, but I feel I am better off than I was 360+ days ago. I have no idea what the 2011 race season has in store, but I hope that if I vomit it won't be while competing for DFL.
More Wavery Short Track Pictures
Weight Update: As of today, I a the heaviest that I have been since the beginning of October. The bright side is that I am still 9 pounds under what I weighed this day last year. I am tired of eating, and I am actually looking forward to dieting again!